Thames Television
Due to it's size and thus huge potential for revenue, London always maintained a bit of an odd distinction on the ITV network of being the only region to retain a seperate Weekday and Weekend franchise. After the franchise renewal round of 1968, this fell into the hands of Thames Television during the week, formed from previous holders Associated-Rediffusion and ABC. The weekend franchise went to London Weekend Television.
This arrangement was to last throughout the 70s and 80s, with both Thames and LWT becoming major contributors to the network schedule, right through until the controversial franchise renewals in 1991. Although LWT survived, Thames lost their ITV franchise, being replaced by Carlton (with no production credentials but a bigger chequebook) from 1993. Thames was the only ITV franchise to successfully continue for any significant time as an independent producer, albeit having to massively reduce it's operations in the following years. Now under the ownership of Fremantle Media, it ironically still produces some of ITV's biggest shows.
Thames - 1985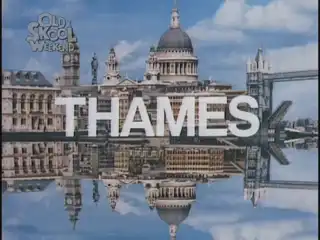 Thames Television's most famous skyline ident consisted of a selection of London landmarks reflected over water. This was to last the station over 20 years and, due to it being so recognisable globally, is still generally applied to all archive material sold by FremantleMedia, even productions dating into the 90s. Here being used as a frontcap for a 1985 production repeated on CITV's Old Skool Weekend, due to the large amount of children's productions Thames had been responsible for.
---
Thames (Promo) - 1987
---
Thames (IVC) - 1987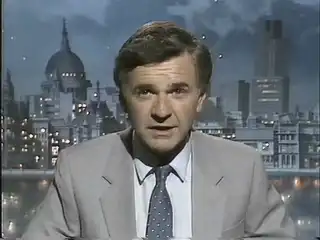 Thames was quite a heavy user of invision presentation throughout most of its life, with some faces that became synonymous with the station popping up to provide links over the years. Here from August 1987, Philip Elsmore links in to a film on Thames, complete with their skyline ident.
---
Thames (IVC) - 1987
---
Thames (Night Ident - Fear Season) - 1987
---
Thames (Next) - 1987
---
Thames (Into The Night Promo) - 1987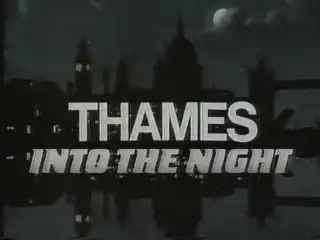 Thames presentation from the overnight slot in 1987 featured 'Into The Night' branding, along with a night time version of the skyline. Here a trailer primarily for the movie 'The Stud', although the rest of the schedule is listed. Using the overnight presentation elements, and one of the scratchiest film prints ever. Perhaps confusingly due to the way TV schedules are traditionally promoted (with day changeovers classed as happening at 6am normally), although this is described as the 'Thursday Night' schedule, it would strictly speaking have been aired in the very early hours of Friday.
---
Thames - 1989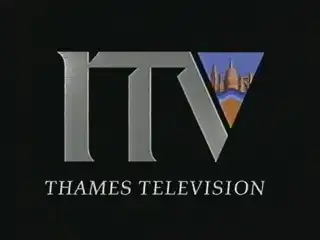 Thames were initially fully onboard with the ITV generic look in 1989, launching it with their new and conveniently already triangular skyline logo that had already appeared as part of their 21st anniversary celebrations the previous month. This generic ident would be tweaked again later to feature an updated corporate Thames logo.
---
Thames (IVC) - 1989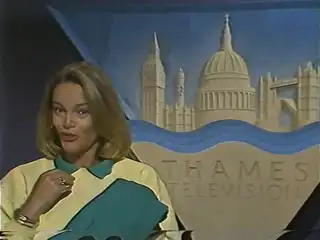 Sally McLaren whips her trousers off in the continuity booth for this in vision link from 1989. Now featuring the 'triangle' logo in the booth, which had come in as part of the 21st birthday celebrations for Thames just with a large XXI in place of the 'Television' wording. Plenty of plugs abound here for the Thames branded clothing you can buy in their Euston Road shop, before finally leading us into a late night news summary.
---
Thames (IVC) - 1989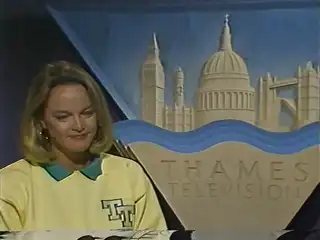 Shortly after midnight at the end of Thames' first full day of the new ITV generic look and Sally McLaren provides more in vision continuity. Although all other graphics have been updated for the new 'ITV' corporate look, the invision studio remains firmly Thames branded. Indeed the only way you could even tell from this link that the new look had launched is by the playout of the new corporate ident where a skyline would once have appeared.
---
Thames - Christmas 1991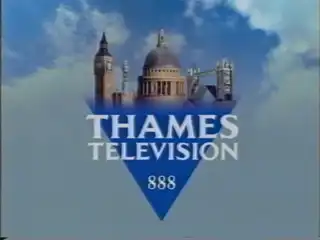 After introducing a new corporate logo and local ident in 1990, Thames initially updated the ITV generic ident and continued using this before networked shows remaining committed to the ITV brand. However not long after the loss of their franchise had been announced they switched to using their own local creation full time. Here an airing from Boxing Day 1991, with audio sounding subtly different to usual in a variant which seemed to only appear for a few days around Christmas. And a... very.... spaced... out continuity announcement.
---
Thames (Break) - 1991
---
Thames (Menu) - Christmas 1991
---
Thames (New Year Promo) - 1991
---