BBC National Weather
The BBC began their weather broadcasts in association with the Met Office in 1922, starting with radio before moving in to television broadcasts after the end of the second world war. Over the years, technologies have moved on in particular with the introduction of computers for both data collection and graphical representation. Throughout all that time, the BBC's relationship with the Met Office remained in place, although this is due to end in early 2018 with a change of the contract to MeteoGroup for weather provision.
BBC Weather - 1996
---
BBC Weather - 1999
---
BBC Weather (Last TVC) - 2013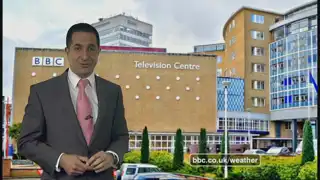 In 2005, the traditional weather symbols were dropped from the BBC in favour of more realistic maps designed to show weather more accurately. The newly introduced graphics remained in use with small tweaks for the next decade, right through until 2013 where this clip dates from. Shown shortly before 1pm on 18/3/2013, Stav Danaos presents the last weather bulletin broadcast on the news channel to come from Television Centre before their move to New Broadcasting House alongside the main news team.
---
BBC Weather (First NBH) - 2013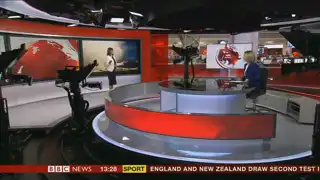 From half an hour later, the first weather bulletin to come from New Broadcasting House. Louise Lear presents from in front of a plasma screen in the news studio as part of the News at 1, simulcast between BBC One and the BBC News Channel. The graphics were largely the same as they had been from TVC, although wording on straps had been subtly updated with the changeover.
---
BBC Weather (First News Channel NBH) - 2013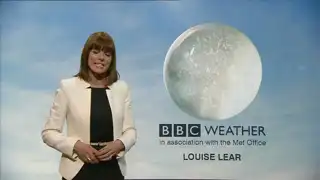 From shortly before 2 on 18/3/2013, Louise Lear has moved up from the news studio to present from the regular weather centre balcony for the first regular BBC News Channel forecast to come from New Broadcasting House. With a somewhat extended camera pan on the opening shot, just to emphasise the new location.
---
BBC News Channel (Move Report - Weather) - 2013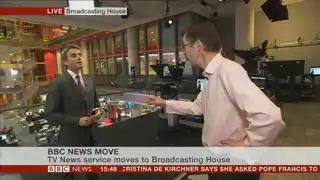 Nick Higham drops in on the Weather Centre, meeting up with John Hammond to discuss how things are changing with the move to New Broadcasting House from a weather presentation point of view. Although you can change the technology and the studios all you like, but you cannot change the British weather itself.
---
BBC Weather (Last Met Office) - 2018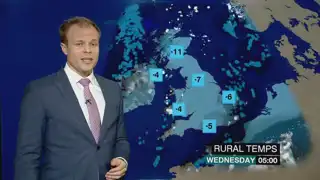 On February 6th 2018, the much delayed move for the BBC from the Met Office to Metogroup for their weather provision finally came. From just before the switchover, Simon King presents the last of the 'old look' forecasts from just before 1pm. Presumably coming from Salford, given he was seen presenting the local North West weather not long after the change.
---
BBC Weather (New Look Report) - 2018
---
BBC Weather (First Meteogroup) - 2018
---