ITV News 2013-Present
With the 2013 corporate rebrand of ITV, the news was to see another look. Thankfully the garish yellow and black look was ditched, and in its place a much smarter and more authoritative return to blues and whites was introduced.
More to follow on this page soon.
ITV News at Ten - 2017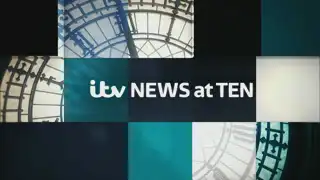 With the 2013 rebrand of the news, initially News at Ten kept the same tiled look as the rest of the bulletins. However it was to once again gain its own custom opening sequence, albeit not as heavily bespoke as the 2009 titles had been, in early 2016. Headlines for this bulletin from 2017 include the agreement between the Conservative Government and the DUP, and investigations continuing into cladding on buildings following the Grenfell Tower fire.
---
ITV News at Ten (50 years) - 2017
---