5Text
Channel 5 launched with its own teletext service in 1997. Initially branded 5Text and heavily using the same coloured branding as the main channel, the service was the first terrestrial service where the main commercial pages were not provided by Teletext Ltd, with the contract instead being taken on by Sky. This was easy for them initially as they were simply able to apply new headers to the same content used for their own channel teletext services. However with the launch of Sky Digital platform, Sky quickly began to withdraw traditional text services, resulting in them handing back the Channel 5 terrestrial licence early as well. In 2002, Teletext Ltd took over provision of the fifth commercial channel. Like other broadcasters, an ancillary service was also carried on Channel 5 providing additional supporting programme information under contract by Intelfax. In the early years, this service was branded very similarly to the commercial 5Text pages. However in the later post-Sky years it would become more distinct.
5Text - 31/12/1997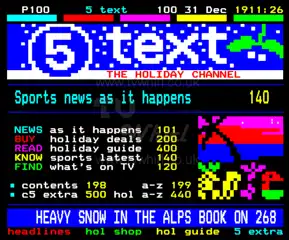 Initially at launch, Channel 5 was the first of the main terrestrial channels not to have a commercial service provided by Teletext Ltd, with BSkyB providing content instead. The service from December 1997 here still in the first year of the channel remains very similar to how it had been from launch, just with some tweaked festive graphics on the main index page. With it being the end of the year, news focuses heavily on New Years Honours too. The ancillary service for 5 can also be found in the 500s, although visually there was a lot less distinction between the commercial and ancillary services in the BSkyB days of the service.
---
Teletext Ltd/five text - 3/2/2007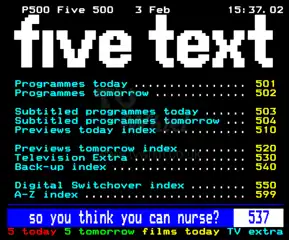 After Sky withdrew from providing the main text service on Channel 5 in 2002, Teletext Ltd took over, launching an almost identical service on the fifth channel as they already had in place on ITV and Channel 4. This service continued through until the end of 2009, when the company terminated their licence 5 years early due to increasing competition from the internet. Here a sequence from their latter years of 2007, with the top news of the day being an outbreak of H5N1 in the UK. Separate to the commercial service, Channel 5 had their own ancillary service providing supplementary programme information. At this late a stage of its life the main provider of ancillary text services, Intelfax, had officially also closed down, leaving the contract in the hands of a company called Bigstream Interactive... although references to Intelfax can still be found.
---