Sky News
Sky News launched way back in 1989 at the start of Sky's Television service, and has been with us ever since. Whilst it may be a hugely expensive operation to run without turning a profit for Sky, it does help to aid Sky's reputation in the UK as a more serious broadcaster. Coverage on this page picks up from the 2001 presentation package with more to follow shortly...
Sky News Channel - Freeview Promo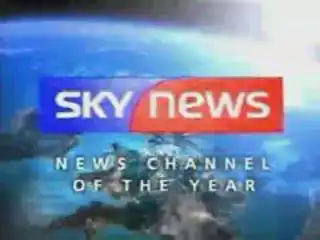 After over 10 years on Sky, Sky News finally joined Digital Terrestrial with the launch of Freeview in October 2002. Sky initially supplied 3 free-to-air channels to the service in total; Sky News, Sky Sports News and Sky Travel, although this was subject to many changes in the following years. In the month running up to the terrestrial launch, this promo started playing out on all 3 channels. It basically covers all 3 of the channels in order... although it's not exactly clear if there was a main starting point. Information text scrolls along the bottom of the screen.
---
Sky News (Live at Five - Iraq War) - 2003
---
Sky News (Headlines) - 2005
---
Sky News (Newspapers) - 2005
---
Sky News (Coming Up) - 2005
---
Sky News (Saturday Live) - 2009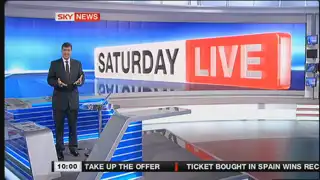 From 2009, and one of many branded strand names for the Sky News channel. This time it's the top of the hour sequence leading into Saturday Live, presented by Chris Roberts. Headlines on this day include continuing revelations around MP expenses claims, wildfires in California, and fighting in Pakistan.
---
Sky News (Destination Report) - 2011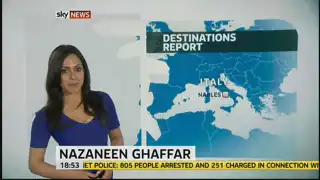 One of several short segments scattered throughout the Sky News schedule geared around the advertising sponsorship attached to it, rather than the news. Here in 2011, Dial A Flight sponsor the 'Destinations Report' by Nazaneen Ghaffar - essentially someone standing in front of the weather screen to promote a particular holiday location. Well, it helps pay the leccy bill for those big video walls!
---
Sky News (Headlines) - 2017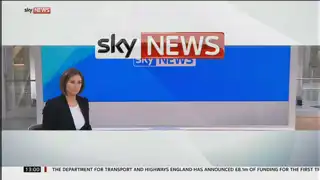 The top of the hour sequence from Sky News in 2017. After showing some clips of the website, they cut to the studio for the headlines, which today include police announcing they are carrying out an investigation into Conservative behaviour in the 2017 election, a report on how Ian Watkins could have been caught much earlier, and Texas bracing itself for severe storms and an update on a day of special Ocean Rescue reports from the channel.
---
Sky News (Half Hour Headlines) - 2017
---
Sky News (Headlines) - 2018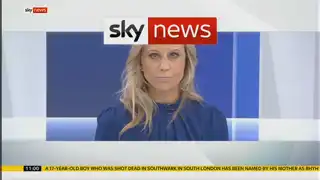 Some small updates to the top of the hour sequence in 2018 to bring in studio updates and a new logo to match the overall Sky branding that week, now with the logo all in lowercase. Headlines on this day include Sir Alex Ferguson undergoing emergency surgery, Conservative infighting over Brexit and Boris Johnson heads to the US to try and persuade Trump not to pull out of the Iran deal.
---
Sky News (Prince Philip Funeral) - 2021
---