BBC Two (19/11/2001 - 18/2/2007)
November 2001 saw the first major relaunch of the BBC2 Identity for over 10 years. Out were the multiple themed idents, in favour of computer animations of a 2 against a slightly garish but more consistently applied yellow background. Added to that was now a purple box, and a set of signature notes to identify the channel. Despite the changes, some things did remain, namely the same stylised 2 as the previous look, just with a variety of new twists applied to it including an attempt to make it into more of a robotic character... sometimes!
BBC2 2001 - Fish (First new look ident)
---
BBC2 2001 - Bounce
---
BBC2 2001 - Domino
---
BBC2 2001 - Missing Logo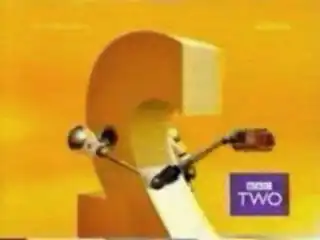 The fourth of the new idents(there were 4 in total in the original set). This time the BBC Two logo is missing, so the character has to turn around a card with it on. This is the shorter version, as all the new idents have a long and short version. This ident was later put to good use with the launches of both BBC Four and BBC Three, which were both simulcast on BBC Two.
---
BBC2 2002 - Dirty Mark
---
BBC2 2002 - Invisible Walls
---
BBC2 2002 - Drip
---
BBC2 2002 - Bounce V2
---
BBC2 2002 - Fish V2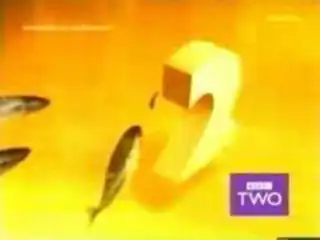 Another 2nd version of an original ident. The designers obviously decided that the original Fish version didnt look right, as the 2 character was backwards for most of the ident (see first new look pic). Hence, a few months later, they flipped it round, and it would appear the original was withdrawn.
---
BBC2 2002 - Remote Control
---
BBC2 2002 - Circus
---
BBC2 2003 - The Big Read
---
BBC2 2004 - 40 Years
---