BBC Four 2021-Present
On October 20th 2021, the majority of the BBC's adult domestic channels underwent a refresh to bring in an updated BBC blocks logo, with placement designed to be consistent across channels to allow for a smoother flow. BBC Four, usually a neglected channel in the BBC family, saw a little more change than the others from this date. The quadrants feature, which had often been missed on later idents up to 2021, was brought back to the fore despite the boxed logo no longer sitting in the centre. New idents were added to the set following this style, albeit without some of the clever optical illusion effects that had been seen in the earliest idents and instead just slightly offset footage used. These were mixed in with quadrant idents which had been added to the channel's rotation in later years. Any which had not featured the quadrant style at all up to 2021, such as their 'Born Digital' set were dropped completely.
BBC Four (Bridge) - 2021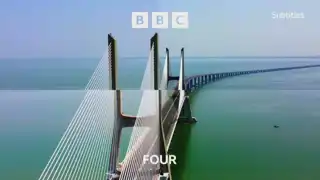 BBC Four was the only channel of all the BBC family to see new idents to coincide with the brand refresh on October 20th 2021, in addition to some refreshed existing ones. The four quadrant motif was retained, despite the BBC logo no long being in the centre point of it, but with new scenes added in to the mix. Here bridge footage makes up the sequence.
---
BBC Four (Art Gallery) - 2021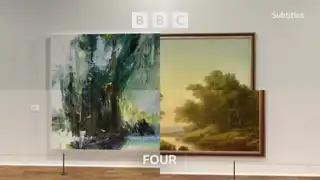 An art gallery scene makes up another new ident for BBC Four, introduced on October 20th 2021. Almost inkeeping with the original idea behind the idents, slightly different pieces can be seen in some quadrants, rather than it just being the same footage offset slightly as with many of the other later BBC Four idents.
---
BBC Four (Music) - 2021
---
BBC Four (Saturday Night Drama) - 2021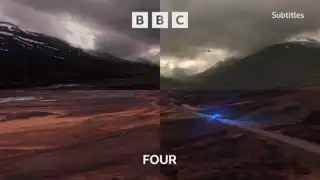 Saturday Night Dramas (or Thrills as referred to by continuity) on BBC Four were to see a fourth new ident for 2021, rather than just one of the existing ones refreshed with the new logo. Unlike previous special idents for Saturday nights, this one is designed to bring in the original 'four quadrants' theme as well.
---
BBC Four (Blossoms) - 2021
---
BBC Four (Houses) - 2021
---
BBC Four (Mount Fuji) - 2021
---
BBC Four (Forest) - 2021
---
BBC Four (Space) - 2021
---
BBC Four (20 Years) - 2022
---
Christmas 2021
---
BBC Four (Reindeer) - Christmas 2021
---
BBC Four (Igloo) - Christmas 2021
---
BBC Four (Reindeer 2) - Christmas 2021
---
BBC Four (Fireplace) - Christmas 2021
---