Dave 2007-2014
UKTV's entertainment channel Dave officially launched in 2007, but originally saw it's origins as the subscription channel UK Gold 2 and later UKTV G2, both spin offs to the primary channel UK Gold. Whereas Gold at the time was positioned for more 'classic' comedy, the spinoff channel was used to air newer comedies such as QI. Although it had moderate success under this guise, it never managed to gain anywhere near the following of the parent channel not helped by having such a mouthful of a name.

In October 2007, UKTV G2 became the first channel to see a 'name' rebrand, taking on what seemed like a very unusual and nondescript name at the time of 'Dave' and targeting a young male audience with its refreshed branding. As well as some of the G2 programming carried over, investment was placed in acquiring more channel content as it aimed to be the home for 'witty banter', and additionally the channel was launched in a new free to air slot on Freeview. Despite some doubting of the name change beforehand, the whole gamble paid off with Dave finding a position as one of the most watched non-public-service digital channels on the platform, allowing UKTV to invest in a larger raft of original programming for the channel.
Dave (Boat) - 2009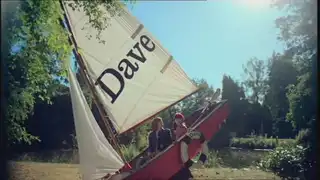 The initial ident package from Dave consisted of a series of eccentric individuals in surreal situations, all with a signature set of notes for the channel played in the background. In this variant, a couple emerge from a Dave branded boat, which is parked half buried in the ground by the side of the water - as one would normally expect of a boat.
---
Dave (Marching Band) - 2009
---
Dave (Match of the Dave Ident) - 2010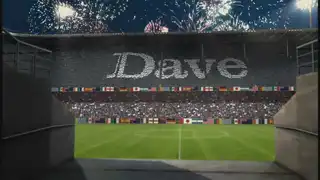 During World Cup 2010, an altered version of one of the regular Dave idents was aired alongside a lot of other football themed presentation under the title 'Match of the Dave'. Because if you can't get the rights to any actual matches, why not find some other very loosely connected way to still be involved.
---
Dave (Match of the Dave Menu) - 2010
---
Dave (Match of the Dave Break) - 2010
---
Dave (Match of the Dave Promo) - 2010
---
Dave (FC Dave Promo) - 2010
---