Home
The Home channel launched in April 2009, taking on the home and gardening shows that had previously appeared on the UKTV Style channel. Initially a subscription channel, it was later moved to FTA status on Freeview with carriage on Freesat following most recently in 2017.
Home (Dog - Short) - 2017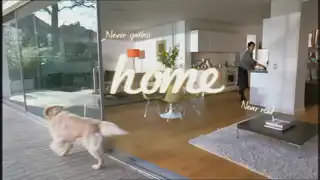 Idents on Home consist of shots of various homes with small annotations overlaid as the camera pans around. Similar to other UKTV channels, two length variants of their idents exist, with shorter ones usually being used without announcement during daytime, and the longer ones with continuity used during the peak hours. This is a short variant of the version featuring a dog.
---
Home (Dog - Long) - 2017
---
Home (Cat - Short) - 2017
---
Home (Cat - Long) - 2017
---
Home (Woman - Long) - 2017
---
Home (Teenager - Long) - 2017
---
Home (Break - UKTV) - 2017
---
Home (Break - Table) - 2017
---
Home (Break - Painting) - 2017
---
Home (Break - Sink) - 2017
---
Home (Break - Dog) - 2017
---
Home (Promo) - 2017
---