~ UKTV History / UKTV Bright Ideas ~
These two early Freeview channels stemmed from the huge UKTV Network, the collection of channels such as UK Gold, jointly owned by the BBC and Flextech(Telewest's programming division). UK History launched at the same time as Freeview, on the 30th October, although it features on all Digital platforms. The channel is designed to carry (would you believe) Historical based programming. UK Bright Ideas launched in January 2003, designed to 'bring the best of UK Food and UK Style'. If a 2 hour loop, which was only on air 6 hours a day represented the 'best of', we really have problems. Whereas UKBI may not be a brilliant channel, both it and UK History still had some decent presentation. In 2004, both channels were renamed to UKTV History and UKTV BrightIdeas as part of a *cough* huge rebranding exercise for the UKTV network. The channel presentation was amended only slightly to reflect this.
Ultimately the channels didn't last in that guise long term. UKTV History survived to become Yesterday, with a similar remit just with more non-history programmes mixed in. UKTV BrightIdeas was closed, the space being reassigned to another rebranded UKTV channel known as Dave in 2007, which fared considerably better.
---
UKTV History
---
UK History Promo
---
UK History - Ident
---
UK History - Promo
---
UK History - Menu
---
UKTV History Ident - 2005
---
UKTV Bright Ideas
---
UK Bright Ideas - Food Ident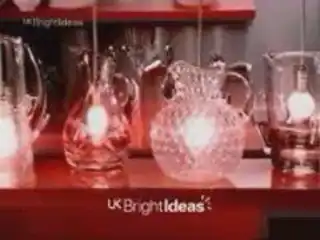 A nice jolly tune accompanied the UK Bright Ideas ident. Each of the UK Bright Ideas idents featured a colour and lighting, grouped around the 4 main programming strands on the channel. This version, set in a kitchen, was used before cookery programming. Though who ever thought putting the channel name in white with all the lights used in the background was a good idea?
---
UK Bright Ideas - Garden Ident
---
UK Bright Ideas - Home Ident
---
UK Bright Ideas - Promo
---
UKTV Bright Ideas (Gardens) - 2005
---