~ Sky News ~
Sky News launched way back in 1989 at the start of Sky's Television service, and has been with us ever since. Whilst it may be a hugely expensive operation to run without turning a profit for Sky, it does help to aid Sky's reputation in the UK as a more serious broadcaster. Coverage on this page picks up from the 2001 presentation package with more to follow shortly...
---
Sky News Channel - Freeview Promo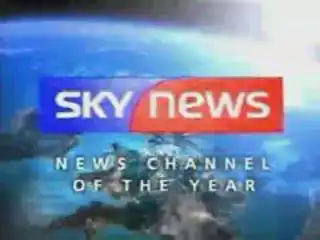 After over 10 years on Sky, Sky News finally joined Digital Terrestrial with the launch of Freeview in October 2002. Sky initially supplied 3 free-to-air channels to the service in total; Sky News, Sky Sports News and Sky Travel, although this was subject to many changes in the following years. In the month running up to the terrestrial launch, this promo started playing out on all 3 channels. It basically covers all 3 of the channels in order... although it's not exactly clear if there was a main starting point. Information text scrolls along the bottom of the screen.
---
Sky News (Live at Five - Iraq War) - 2003
---
Sky News (Headlines) - 2005
---
Sky News (Newspapers) - 2005
---
Sky News (Coming Up) - 2005
---