Quest
Quest saw a slightly bumpy launch in 2009. Originally planned for launch in May and trailered as such right to the last minute, the channel launch was delayed before eventually going to air in the September of that year. Owned by Discovery Networks, the channel acts as a free to air outlet for all the group's produced content, whilst avoiding directly mentioning the Discovery brand too often. Resulting in a mix of some of their high octane shows such as Mythbusters, alongside some overspill of sports that come as part of their ownership of the Eurosport channel.
Quest (Parachute) - 2009
---
Quest (Break) - 2009
---
Quest (Promo) - 2009
---
Quest (Menu) - 2009
---
Quest (Driving) - 2017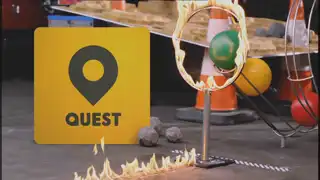 2017 presentation on Quest is a combination of programme specific idents for some bigger shows, cut together from show footage. Alongside of a series of generic idents for other times, which consist of a series of objects interacting with each other in sequences reminiscent of the famous Honda advert. These had originally been produced a few years earlier for use on Discovery group channels on the continent, before being recycled for UK audiences in 2017 for Quest. This collection features mostly cars and related driving items.
---
Quest (Construction) - 2017
---
Quest (Kitchen) - 2017
---
Quest (Outdoors) - 2017
---
Quest (Sport) - 2017
---
Quest (Promo) - 2017
---
Quest (Warning) - 2017
---
Quest (Questmas) - Christmas 2017
---