~ BBC Four ~
BBC Four launched as a replacement for BBC Knowledge on Digital on the 2nd March 2002. It was a nearly a year before BBC Choice finally became BBC Three to fill the gap in the numbering - a gap that would be reintroduced in 2016 when BBC Three ceased as a broadcast channel. Whereas BBC Knowledge was devoted to education, BBC Four is designed to cater for the 'culture and the arts' (ie - music and painting, and all that stuff!). For the launch night, the BBC fed out BBC Four live on BBC Two, so that non-digital viewers could get a taste of the channel.
---
BBC Four - Launch Night (2/3/2002)
---
BBC2 Handover to BBC4
---
BBC4 Ident - Squares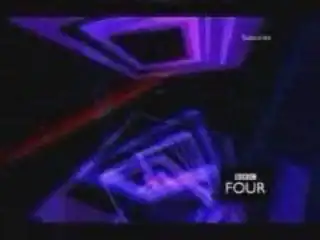 A few minutes later, and the first BBC4 ident appeared. All the BBC4 idents broadcast on BBC2 were altered slightly to include the announcer mentioning 'broadcasting on BBC2 tonight'. The idents themselves are a unique idea, taking full advantage of modern computer technology. They are created live in response to the sound from both the background instruments, and the announcers voice.
---
BBC4 Next Caption
---
BBC4 Promo
---
BBC4 Ident - Ovals
---
BBC4 News
---
BBC4 Info
---
BBC4 Ident - Bars 1
---
BBC4 Ident - Bars 2
---
BBC4 Ident - Bars 3
---
BBC4 Ident - Circles
---
BBC4 - Handback to BBC2
---
BBC Four Christmas 2002
---